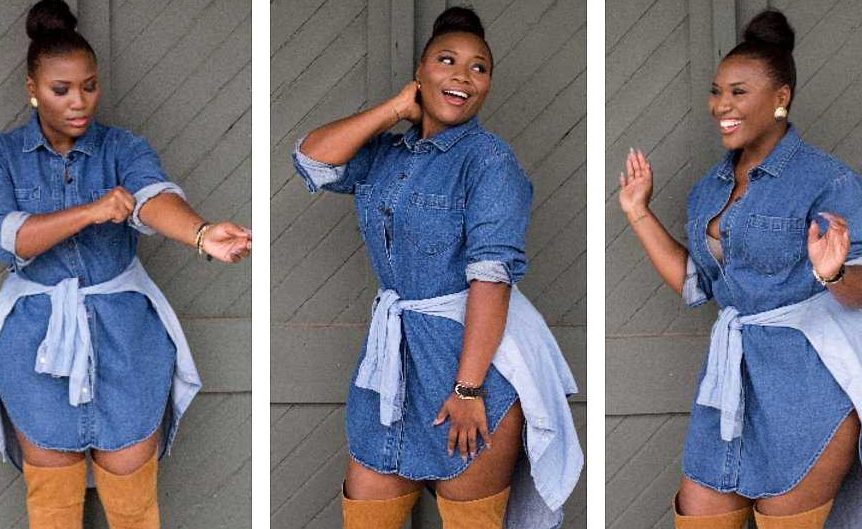 We've all been there, seeing the celebrities and models on tv and in magazines, looking put together from head to toe. It's hard not to look at their polished looks and think, "How does she pull that off? Would that look good on me? Can I even afford something like that?". Well rest assured because we have people like Wardrobe Stylist, Mimi Coleman, to help guide us to look our best! We recently sat down in an interview with Mimi to get to know her a little better and ask her fashion advice.
Q: Where did you go for your education in Fashion?
A: The Academy of Art University in San Francisco, California to attain my BFA in Fashion Merchandising.
Q: What type of experience have you had this far in the industry?
A: I've done New York Fashion Week in 2012 and 2013; Various photo shoots, video shoots, and fashion shows. I have retail experience from the age 15 to 21 and worked in stores like Nordstrom in Phipps Plaza.
Q: If you could trade closets with any celebrity (past or present), who would it be and why?
A: Rihanna; she is the epitome of a style icon to me. She has no restraint and her confidence exudes no matter where she is or what event she attends – her style is sick.
Q: Where do you find your inspiration for your outfits?
A: Everywhere! People, places, and things. If I were to go to an art gallery, it might make me want a multi-colored or abstract patterned top with a solid bottom. I get inspiration from street style, scenery, my environment, and my mood – I may feel sexy, sleek, and feminine so I will dress that way.
Q: What would you say is a good staple piece everyone should own?
A: A good pump!
Q: Where should we go to get great affordable finds?
A: Thrift stores, H&M, Top Shop, Zara, Forever 21, basically anywhere that has "Fast Fashion".
Q: What is "Fast Fashion"?
A: That's where stores take the looks that you see from the runway and duplicate the looks and get them into stores immediately at an affordable price. The trick is to not buy a completed mannequin look, you should grab pieces from here and there to pull the look together.
Q: What is your #1 Fashion DON'T or advice on what not to do?
A: Oh man, just one? (laughs) I would say being too matchy-matchy, like doing a pattern on the same pattern. I think you should mix it up, play with different fabrics and colors, don't over analyze it.
Q: What is your #1 Fashion DO or advice on what to do?
A: I would say just because it works for Beyonce doesn't mean it will work for you. Make sure to dress according to your body type; have a few pieces and play off of what works, get inspired from her but make it your own.
Q: What are your favorite colors to work with?
A: Grey, camel, taupe, and white.
Q: What is your favorite fabric to work with and why?
A: Leather! It speaks without saying much. Whether it be a leather skirt, shirt, or pants, it just adds excitement and makes it sexy.
Q: Who is your favorite designer?
A: Hm, like clothing or shoes? For sure Balmain for clothing because of the construction, it compliments every body type and it's proportionate. My favorite designer for shoes would be Monika Chang; they have a feminine arch and her shoes give confidence and boldness.
Q: If you had 10 minutes to get dressed to go out, what would you pull together for your look?
A: If I'm going out to have drinks with my girls, I would grab a pair of distressed jeans, body suit or cropped top, get a flannel button down to tie around my waist, and then d'-orsay pumps or maybe a pointy toe booty.
Q: What is your favorite part of what you do?
A: Being an entrepreneur, I love getting to work with different looks and new pieces, just seeing what's out there. I enjoy seeing the variety of each season's colors, themes, and the stories behind each collection. What I really love about what I do is reaching people through accessible and affordable fashion; making them feel confident and good about themselves.
Mimi has recently launched her very own eBoutique, Hi-Voltaj Apparel, and the goal is to "provide our customers with distinctive, upscale pieces at moderate prices". You can find them here: Hi-Voltaj Apparel
Share post: