Vigilante Makeup + Hair Artistry is an on-location, and destination makeup and hair team based out of Atlanta, GA. Vigilante Makeup +Hair was founded in 2013 by industry professionals Erica Ages and Corie Messer. The like minded, and makeup + hair  obsessed duo had the idea to build a brand that represented beauty at it's most raw and true form. A brand that surpasses the ideals of beauty conformity and trends.  A brand that excluded no one, and honored beauty of all cultures, ethnicities, and genders. A brand centered around professionalism,  and artistry.
OUR MISSION is to make every client look and feel truly beautiful; and because we love saving the day – we hold ourselves to an incredibly high standard of service and we take pride in our proven dependability.
WE ARE A TEAM of Atlanta's best Makeup Artists and Hairstylists, "Saving The World One Beautiful Face At A Time".
If you would like to learn more about Corie, Erica and the rest of the award-winning Vigilante Hair + Makeup team, be sure to explore our Meet The Artist's page.
Services
Airbrush Makeup
Traditional Makeup
False Lashes
Formal Hair Up-do's
Half Up, Half Down Hair Styles
Blow Outs
Curls Only
Studio Rental
Events
Bridal Portraits
Weddings
Engagement Sessions
Maternity Sessions
Boudoir
Film / Commercial Work
Magazine / Print
Avante Garde / Editorial Shoots
Fashion / Runway events
Charitable Events
CLIENT LOVE
With getting married in my mid-30s, I've been a part of SEVERAL weddings. Sometimes I'd love my hair and not my makeup or vice versa but usually neither lasted throughout the full day's festivities. Not a single hair and makeup company that I've worked with comes close to the work that Vigilante Cosmetics does. They are simply the best.
We got married right in the middle of the path of the World Series parade. To ensure they didn't run into traffic, they arrived well before scheduled in order to help ease my anxiety. Erica and Corie are professional, kind, and FUN but most importantly they are both highly skilled. Their work was truly flawless, and I would (and already have) recommend them without hesitation!
Erica did the make up for my wedding party, my mother, and myself and she did a phenomenal job. She made us all look stunning yet natural (as requested) which can often be a challenge in its own.
Corie did the hair for all of us. My girls came prepared with their sought-after Pinterest looks that they hoped to come close to but were blown away when she recreated each to perfection. Each girl had a different look from a power, pony, to 1920s waves, to incredibly intricate braided low buns.
The compliments were endless. Not only from the bridal party but from the wedding guests as well.
I can't wait to see them again for my friend's wedding in December. Anyone that hires Vigilante Cosmetics is in good hands!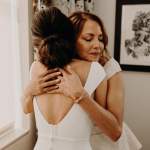 Jillian Garcia