Vigilante Makeup + Hair Artistry is an on-location, and destination makeup and hair team based out of Atlanta, GA. Vigilante Makeup +Hair was founded in 2013 by industry professionals Erica Ages and Corie Messer. The like minded, and makeup + hair  obsessed duo had the idea to build a brand that represented beauty at it's most raw and true form. A brand that surpasses the ideals of beauty conformity and trends.  A brand that excluded no one, and honored beauty of all cultures, ethnicities, and genders. A brand centered around professionalism,  and artistry.
OUR MISSION is to make every client look and feel truly beautiful; and because we love saving the day – we hold ourselves to an incredibly high standard of service and we take pride in our proven dependability.
WE ARE A TEAM of Atlanta's best Makeup Artists and Hairstylists, "Saving The World One Beautiful Face At A Time".
If you would like to learn more about Corie, Erica and the rest of the award-winning Vigilante Hair + Makeup team, be sure to explore our Meet The Artist's page.
Services
Airbrush Makeup
Traditional Makeup
False Lashes
Formal Hair Up-do's
Half Up, Half Down Hair Styles
Blow Outs
Curls Only
Studio Rental
Events
Bridal Portraits
Weddings
Engagement Sessions
Maternity Sessions
Boudoir
Film / Commercial Work
Magazine / Print
Avante Garde / Editorial Shoots
Fashion / Runway events
Charitable Events
CLIENT LOVE
Hiring Vigilante Cosmetics for my wedding was such a good call! I initially was not planning to hire a hair and makeup artist for my big day… I have had my makeup done professionally in the past, and haven't always loved the results, so I was hesitant to hire artists for my own wedding. But after considering the stress of having to do my own makeup, on top of everything else that would be going on the morning of the big day, I decided to ask several of my other wedding vendors for recommendations for a hair and makeup artist. Vigilante was immediately recommended by not just one, but THREE different vendors I was already working with. And luckily for me, they were available for my wedding date! And they certainly lived up to their glowing reviews. My initial trial run was so validating. Erica (my makeup artist) and Cheree (my hair stylist) listened to the concerns and preferences I had, and recreated the look I was going for FLAWLESSLY. I had never felt so glowy and pretty – and like myself – in my life! They were both so kind and professional, and I knew instantly I had made the right decision. I ended up booking hair and makeup services for all my bridesmaids and my mother, as a treat to pamper them as thanks for all the help they had been in the lead up to my wedding.
On the wedding day, Erica and Cheree were there on time, super organized, and kept the hair and makeup services running on time. All my ladies had a wonderful time talking to them while we got ready, and everyone looked gorgeous! These artists are top-notch, and I am so so so glad I decided to book with them!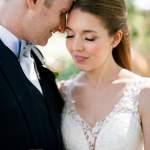 Ashley Jennings